As Problem Gambling Awareness Month continues, we'd like to put special emphasis on supporting families. Problem gambling does not affect just the person who struggles with gambling problems.  It also affects at least 10 of the closest people to the person struggling with their gambling. This usually includes family.
Families and Problem Gambling
Many families know and feel the effects of problem gambling. Families that include a person who has a gambling problem struggle with healthy relationships.  They may also experience fear of that person losing employment and having additional financial problems. Many times, these families may feel alone and isolated. They may feel that they are the only family struggling with the effects of someone's gambling problems.
We want to make it very clear that any family that is negatively affected by problem gambling is far from alone. In New York, 5% of people have a gambling problem severe enough to be diagnosed and treated with professional services. That 5% of New Yorkers are all connected to families and all those families are affected by problem gambling.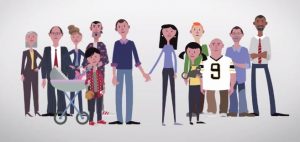 Effects on Families
When a person struggles with problem gambling, those problems affect their families. The spouse of someone with a gambling problem may have stress and anxiety due to the ups and downs in the marriage. The person who gambles may come home happy some days and very angry or depressed the next day. There's no way for the spouse to know how the gambler will come home. That uncertainty can cause anxiety, and strain the marriage
Children of a person struggling with problem gambling feel the effects as well. Kids feel the uncertainty that exists between their parents.  This could be from not knowing whether it'll be a good day or a bad day in their home.  Or not knowing whether they'll be going on a great vacation or struggling to have food on the table. For kids, this uncertainty could feel paralyzing. 
Beyond uncertainty, youth may also be affected by the angry or depressed mood that may follow their parents gambling. The parent who struggles with their gambling may be abusing or neglecting their children. The children feel the effects of problem gambling.
Families Take Action
To help support families, the New York Council a Problem Gambling has created a Family Toolkit. Take time to review these resources as they could be a huge help to loved ones trying to navigate the negative effects of problem gambling
Talking to kids about problem gambling can feel challenging, but resources are available.
Don't Bet Yet is a great resource, with a video and supporting materials.  This resource can help explain to children how problem gambling negatively effects the family. It helps kids understand and can help start the conversation between the parents and their children about problem gambling.
Talk2Kids is a great site that focuses solely on helping parents start a conversation about problem gambling. Although the resources focus on talking to youth about why they shouldn't gamble, it does offer great tips and videos on how easy it can be to start a conversation in everyday interactions with kids. 
Reaching Out for Help
Although these are great resources, there is additional help available. For additional support, reach out to your local Problem Gambling Resource Center. Callers are connected with a trained professional who is able to connect them with local resources in New York State.  These resources are for both a person struggling with a gambling problem, as well as services and resources for loved ones negatively affected.
As March continues, please keep an eye out on Facebook and Twitter for posts and facts about problem gambling. We will continue to send out facts and resources as we hope to reach those in need, and help connect them with resources and services for help. 
Additional 2020 PGAM Articles: