April is Alcohol Awareness Month.  Alcohol awareness month is a great time to help those struggling with problem gambling.  73% of surveyed problem gamblers reported an alcohol use disorder.  Data clearly shows that there is a connection between alcohol abuse and problem gambling.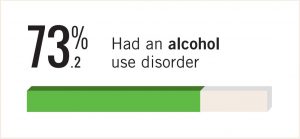 Warning Signs:
According to the DSM-V, there are similar warning signs for both gambling disorder and alcohol use disorder, such as: :
Tolerance: the need to gamble/drink increased amounts for the same feeling
Withdrawal: feeling unwell when going without gambling/drinking
Preoccupation: a state of distraction from thoughts about future gambling/drinking
Escape: gambling/drinking to avoid or deal with stress
Lying: lying about how much a person is gambling/drinking
These overlapping warning signs make it easy to see how similar problem gambling and alcohol abuse  can be.  Their similarity stems from the addictive quality of the high risk excitement from a low effort activity.  It takes a lot of effort to get the euphoric feeling from running or publishing a book, but there is very little effort in having a drink or placing a bet.  
Action Tips:
If you know someone who is struggling with alcohol use, you may want to talk to them about their gambling activities.  You can also send them to the KnowTheOdds.org site to learn more about problem gambling to avoid the co-occurring disorder of problem gambling.  
If you, or someone you know, is struggling with problem gambling or alcohol abuse, please call the HOPEline for help at 1-877-8-HOPENY (or 1-877-846-7369).  There is a trained clinician available and waiting to help you, now!