Happy Recovery Month!
September is Recovery Month and we'd like to shed light on the positive experience of recovery from problem gambling. Since problem gambling is often a "hidden addiction," we need to make it our high priority to talk about, educate, prevent, and screen for problem gambling.
Recovery from Problem Gambling
Recovery is the journey of starting a meaningful life free of addition.  Problem gambling is anytime gambling causes problems in someone's life.  Recovery from problem gambling is the journey of living a meaningful life free from the grip of gambling.  It's a life free from problem gambling's devastatingly negative effects on someone's personal, social, professional and financial life.  With this freedom, ae person in recovery can define what makes their life meaningful.
Prevention Enhances Recovery
If we recognize recovery as part of a continuum of care, then we can't forget about prevention.  We must recognize that prevention enhances recovery.  By preventing a relapse, we help prevent further problems and support the efforts that continue the recovery journey.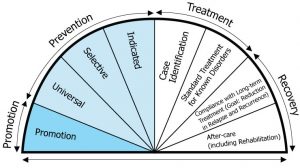 At the state and regional levels, we need to spread a message of prevention throughout our communities that the risk of problem gambling is real.  The risk is especially high for individuals in recovery from substance use disorders.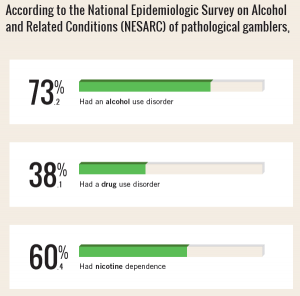 Screening for problem gambling is an effective way to start discussions about gambling problems.  It's also a quick and easy way to reach individuals who may be in need of help before problems escalate further. Recovery from problem gambling is very possible and we are here to help along the way!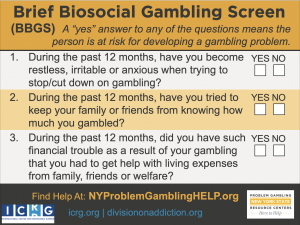 Taking Action
Community Members:
Agencies and Organizations:
Agencies and organizations can participate in the statewide Screening Day being held on September 22, 2020.  They can also encourage those in your network to do the same.  Screening clients for problem gambling is the first step to identifying those in need of support services.  The New York Council on Problem Gambling (NYCPG) offers all the resources you'll need on their NYCPG Recovery Month Resources webpage.
Agencies and Organizations can take action by helping to raise awareness of recovery from problem gambling.  You'll find plenty of posts to share through NYCPGs Facebook, Twitter and LinkedIn, emails received as an NYCPG email subscriber and their press release. 
Finally, Agencies and organizations can look at their policies to make sure gambling is one of the prohibited activities, along with drug and alcohol use.  This ensures a safe environment for colleagues, volunteers and the community members they engage with.
Walk-Away Facts
We appreciate your interest in recovery from problem gambling.  Here are some facts to walk away with.
Nearly 668,000 adults in New York State are struggling with a gambling problem (2006 OASAS Adult Problem Gambling Household Survey).
Almost 75% of people diagnosed with gambling disorder also had an alcohol use disorder, and close to 40% had a drug use disorder (Petry NM, Comorbidity of the DSM-IV pathological gambling and other psychiatric disorders).
In NYS there is treatment and other pathways available to help people find and practice their own recovery. Some of the methods include private practitioners trained specifically in problem gambling, OASAS designated problem gambling treatment providers, Gamblers Anonymous and Gam-Anon, SMART Recovery, and more!
We wish everyone a happy and safe Recovery Month!