Did you know that June is National Family Month? Family can mean different things to different people, but they all function under one premise, love and commitment to one another. When we are part of a family we worry about our families' best interests and want to make sure they are healthy and happy.  
Navigating Difficult Conversations 
When we think about gambling, we often do not realize the impact it has on family members. If someone you love is having difficulty with their gambling, it may affect you as well. Know the Odds (KTO) has a family member course designed to help navigate difficult conversations. Often when you're trying to help, that message gets lost in translation, and everyone winds up feeling frustrated or angry. We designed this online course to help families navigate conversations about gambling behavior in a way that will be more productive.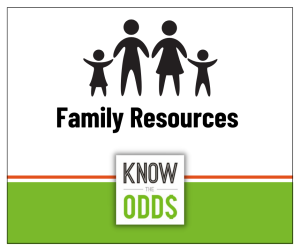 Topics of Conversation  
Our Emotions  
Why Do Our Loved Ones Gamble?  
Gambling and Lying 
Ambivalence is Normal  
Changing Motivation  
OARS  
Your Health & Wellbeing  
Most importantly, make sure you are checking in with yourself. If you have a family member or loved one who is having difficulty with their gambling it can take a toll on your mental health and wellbeing.  Taking care of yourself can help you take care of your family members and loved ones. Know that help is available for you and your loved ones. The New York State Problem Gambling Resource Centers can help get you connected. Visit NYProblemGamblingHELP.org for more information.