They served our country to keep us safe.  Now let's work together to keep them safe. Veterans are at a much greater risk for struggling with problem gambling than the general population.  One way we can show them appreciation for their service is to help keep them safe from addictions like gambling.
Veterans and Civilian Life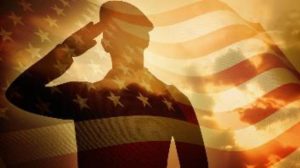 The transition from active service to civilian life can be very difficult for some veterans.  Veterans have placed themselves at great risk by serving our country.  During their years of service, these men and women may have experienced situations that were risky, which may have caused an adrenaline rush.  They may struggle to find those same adrenaline rushes as civilians back home. 
Other veterans may seek a way to escape the stresses from being overseas and away from family.  Consequently, working through the feelings of their service, the transition back to civilian life, and the memories they have from their service may be difficult.  Finding ways to keep themselves busy may be vital to their transition back home.  
Veterans and Problem Gambling
Veterans are at a higher risk for problem gambling for two reasons; they may continue to seek the adrenaline rush of risk or look to avoid uncomfortable feelings. 
The risk involved in gambling may simulate a similar feeling of risk they became accustomed to during their service years. If they find refuge in the risk of gambling, then they may begin to rely on gambling to mimic the experience of their service years.  This is one way gambling can turn from entertainment to a problem for our veterans.
Similarly, gambling as a way to avoid emotions and escape life is another way that gambling can become a problem for veterans. Many times, veterans may find themselves in front of a gambling machine for hours because they've lost track of time.  They may be using gambling as a way to avoid experiencing the negative feelings they have from memories of their time in service to our country.
Serving Those Who've Served
Empathy.  The first thing we can do is begin to have a conversation and show that we care.  Asking questions about their well-being and how they spend their time are great starter points to a conversation about their gambling behavior.  It's important to build a trusting relationship because this will help identify those in need of referrals to help.
Referral.  If a veteran seems to, or openly admits to, having a problem with their gambling, then referring them to help is a great way to help them.  There may be many options for help with problem gambling depending on where the veteran lives.  Visiting the Problem Gambling Resource Center is a great place to start.  
Prevention.  Talk to veterans about problem gambling and educate them that gambling can become an addiction.  Many veterans may not be aware that gambling can become an addiction.  So, we've created a video titled He's Not The Same, which is about the struggle of problem gambling for a veteran.  This video could be a great resource to help veterans understand how gambling may be negatively affecting them.
Veterans and anyone working with veterans can always visit our resources page for eBooks like Understanding Problem Gambling, other videos like Bet The House, and infographics such as The Path To Problem Gambling to learn more about how gambling can become a devastating disorder. 
We hope everyone has a wonderful veterans day and spends time talking with their loved ones who have served in our country about their gambling behaviors.